Experience & Exhibit Design
With over 40 years of experience, eBottles has been at the forefront of cannabis packaging since 2014.
Today, eBottles works closely with a network of distributors throughout North America. They conduct business with thousands of customers, including 80% of the top ten multi-state operators in the US.
eBottles offers an unrivaled variety of stock child resistant packaging, leading patented designs and constant product innovation. They support their customers' sustainability initiatives with conscious options that make a difference in the packaging life cycle.
We have seen eBottles grow through the years, it was an honor when they contacted us to help them launch their new Brand Identity at MJBIZ 2022 with a new look and feel. We sat down early in the year to discuss their goals, budget and needs. Once the discovery meeting is completed, I began the design process in a CAD format, this allows me to be precise in the structure design.
Below is the final result on the Show Floor.
We embraced the new iconic logo and colors to create a brand presence like no other.
The main structure is complimented by earthy textures, a large video wall with a hands on experience below, where guest can pick and choose to make their own bottles.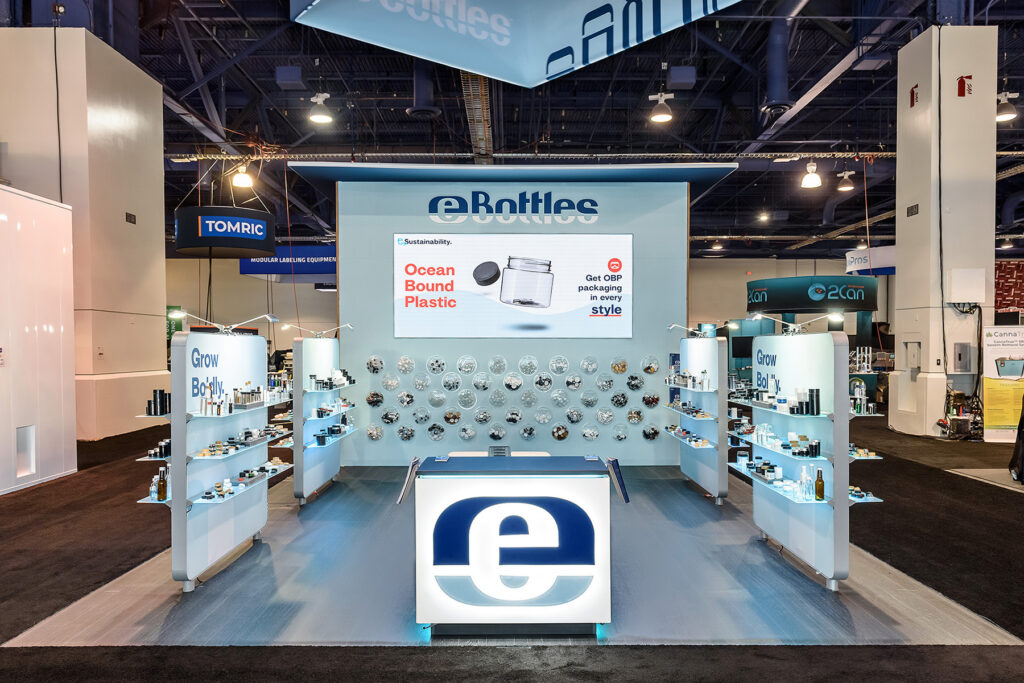 Very proud of this design for eBottles. Proud of all our team members that had a hand in making this design come to life on the show floor.
Thank you to the amazing eBottles team, specially Robert Lerman (Founder/CEO), Sabine Kuhn (COO) and April Wolf.  Can't wait for next year.